Watersport town with a wealth of shops
Joure, 'coffee town' of the Netherlands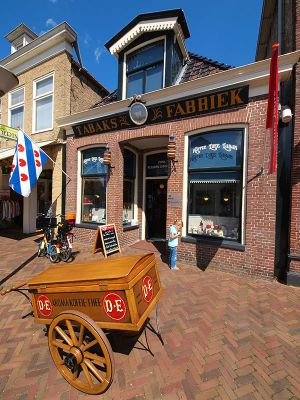 Here, in the well-preserved small shop in the Midstraat in Joure, it's where it all started for the now internationally famous coffee roaster Douwe Egberts. The enterprise still operates from the charming Frysian watersport town.
JOURE (NL) – Joure is a Frysian highlight, an immensely charming coffee town with a beautiful museum – Museum Joure, attractive shops and surprising restaurants. The town is also world famous for its Frysian wallclocks, barometers and numerous cultural events such as the hotair balloon festival.

The South Frysian town is the birthplace of coffee roaster Douwe Egberts, who in the past frequented the renowned and rich Frysian 'Eleven Cities' because of his trade in colonial goods. The 'Eleven Cities' route as a trade route: back in the days paving the way for export. And in the year 2013 the entire world drinks Douwe Egberts coffee and tea!

Since 1753
Douwe Egberts' real name was actually Egbert Douwes. Together with his wife Akke Thijsses he sold colonial goods in their shop at the Midstraat, which they opened in Joure in 1753. They laid the foundation for today's coffee, tea and tobacco corporation Douwe Egberts. Egbert and Akke sold products 'belonging to the daily joys of life.' Until some time during the First World War (1914-1918) a large variety of products passed the counter of their snug shop, which one can visit in light of this 'Eleven Cities' tour. Coffee, tobacco and tea were merely the most important products. Also on offer were sugar candy, sugar, rice, vermicelli, laundry blue, chicory, cinnamon, saffron, syrup, vinegar, chocolate, Gouda pipes and subtropical fruits.