Watersport town with a wealth of shops
Joure, 'coffee town' of the Netherlands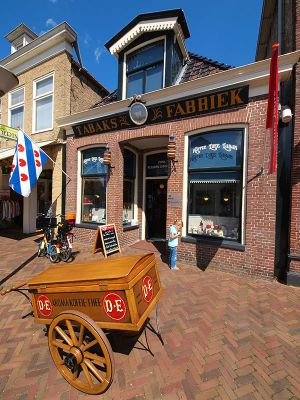 Here, in the well-preserved small shop in the Midstraat in Joure, it's where it all started for the now internationally famous coffee roaster Douwe Egberts. The enterprise still operates from the charming Frysian watersport town.
JOURE (NL) – Joure is a Frysian highlight, an immensely charming coffee town with a beautiful museum – Museum Joure, attractive shops and surprising restaurants. The town is also world famous for its Frysian wallclocks, barometers and numerous cultural events such as the hotair balloon festival.

The South Frysian town is the birthplace of coffee roaster Douwe Egberts, who in the past frequented the renowned and rich Frysian 'Eleven Cities' because of his trade in colonial goods. The 'Eleven Cities' route as a trade route: back in the days paving the way for export. And in the year 2013 the entire world drinks Douwe Egberts coffee and tea!

Since 1753
Douwe Egberts' real name was actually Egbert Douwes. Together with his wife Akke Thijsses he sold colonial goods in their shop at the Midstraat, which they opened in Joure in 1753. They laid the foundation for today's coffee, tea and tobacco corporation Douwe Egberts. Egbert and Akke sold products 'belonging to the daily joys of life.' Until some time during the First World War (1914-1918) a large variety of products passed the counter of their snug shop, which one can visit in light of this 'Eleven Cities' tour. Coffee, tobacco and tea were merely the most important products. Also on offer were sugar candy, sugar, rice, vermicelli, laundry blue, chicory, cinnamon, saffron, syrup, vinegar, chocolate, Gouda pipes and subtropical fruits.
Joure: shopping, feasting and playing
The Douwe Egberts town of Joure holds many good surprises: attractions such as the world famous DE shop and numerous other museums, the manufacture of Frysian (chiming) wallclocks and barometers, a swimming paradise, a children's play park, special restaurants and cafés, and events such as the famous hotair balloon festival. The Midstraat in Joure is the shopping street of South Friesland. There are many special shops, interspersed with restaurants, terraces and museums.

Joure is not quite on the 'Eleven Cities' route, but a mere 5 km away from it. It's particularly easy to reach Joure. Families with children like to stay there because of the nearby swimming paradise De Stienen Flier and the indoor children's fun park Speelbos Joure. There is also a wellness resort in the area with several amenities such as a sauna. Furthermore there are many opportunities to practise water sports or go exploring in a dory boat. In nearby Terherne you can take a mini sailing course of one or two days, make a tour on a pleasure boat, or hire a dory boat. The village of Terherne became famous because of a series of youth films and books (De Kameleon).
| | |
| --- | --- |
| | |
| Museum Joure is a bustling museum. Workshops with the following handicraftsmen's products form part of the industrial-handicraft complex from the end of the 19th century, where long ago coffee roaster Douwe Egberts was established: clockmaker, brass founder, coppersmith, gold and silver smiths, and printer. In DE's first factory the coffee, tea and tobacco collections are on display. Ongoing contemporary art exhibitions can also be admired. A delightful garden and authentic quays surround all ten buildings. | The Midstraat in Joure: a shopping street with numerous terraces and monuments. |

Package information
For an introduction to Egbert Douwes and the province of Friesland, the bureau for tourism Friesland Holland (www.frieslandholland.nl) developed the 'Eleven Cities' tour 'In the trail of Douwe.' This is a six-day 'Eleven Cities' tour full of history – with luggage and breakdown services – which starts and ends in Joure where to this day Douwe Egberts has a large production business.
For more information:
www.frieslandtravel.nl or tel. +31(0)561-615364 or
This email address is being protected from spambots. You need JavaScript enabled to view it.